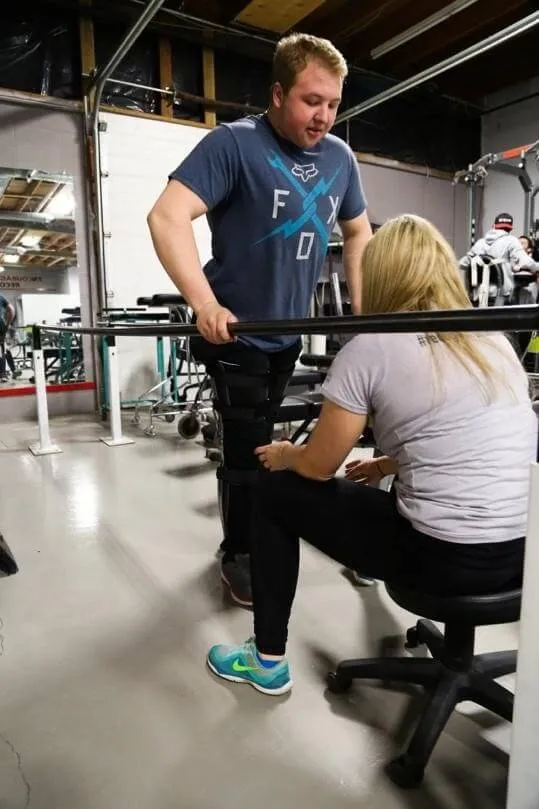 Activity-based therapy (ABT) is composed of interventions that target activation of the neuromuscular system, below the level of the lesion. The goal of ABT is to retrain the nervous system to recover specific motor tasks and functions. Our ABT sessions are based on the principles of neuroplasticity including high intensity, high repetitions and specificity of exercises. FSWC also involves various types of stimulus to help induce neuroplasticity, including functional electrical stimulation, pneumatic resistive/assistive training, and vibration training. In some cases, stimulation is done manually or through the proper application of specialized equipment.

Our clients repeatedly go through the functional exercises to promote the relearning of developmental movement patterns including rolling, sitting, kneeling, standing and walking. Loading weight to the limbs through developmental movement patterns also helps to gradually rebuild muscular endurance and strength.

FSWC customizes programs for clients based on their current level of function as well as the client's goals. In order to stimulate the nervous system to change and adapt, most of the exercises done here at FSWC will be aimed at restoring function below the level of injury. A minimum of one therapist will accompany each client during their session; sessions are typically 2-4 hours a day, 3-5 days a week. ABT for spinal cord injuries is being applied around the world. In Canada, there are a handful of centers that are beginning to apply these techniques, with FSWC leading the way with over 10 years of experience.
Therapy sessions at FSWC uniquely combine aerobic and strengthening exercises for physical conditioning, with task specific patterning, and developmental movement patterns to promote functional relearning.

Last but not the least, our qualified and educated staff, along with our inspiring clients creates a positive environment that is ideal for recognizing the untapped potential to improve each day.
*Before acceptance to our programs, we require a note from your doctor clearing you to participate in an intensive exercise program, as well as clearance to participate in load bearing activities such as standing (a bone density scan may be needed).

If you are unsure if you are a candidate for our program or if you have further questions please do not hesitate to contact us by email [email protected] or by phone 306.522.3792. We would love to hear from you.
FSWC believes in intensive activity-based functional recovery in individuals with SCI and other neurological impairments like stroke and multiple sclerosis.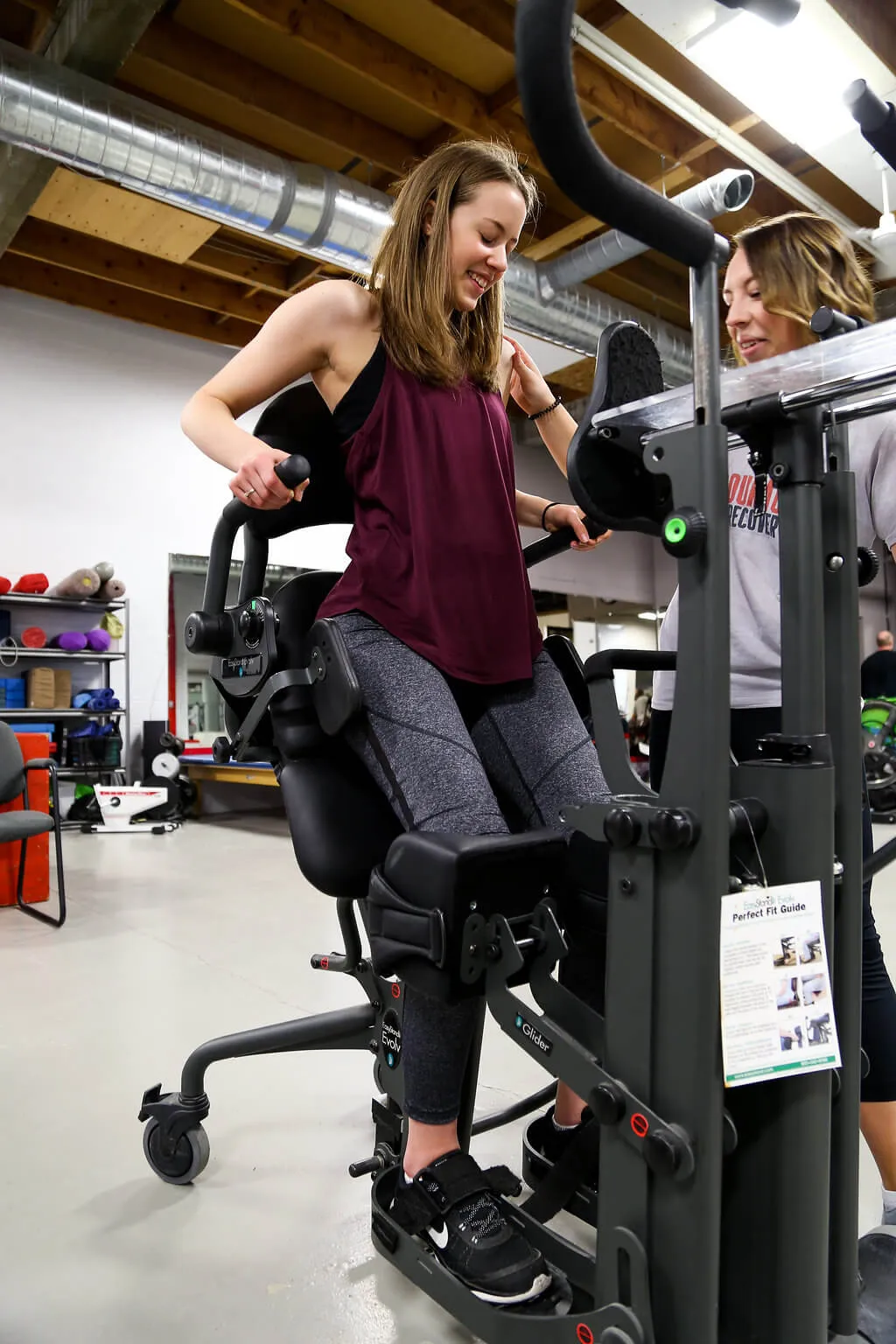 First Steps Wellness Centre (FSWC) is a specialized rehabilitation facility that was established to promote functional recovery in individuals with a spinal cord injury (SCI). Our methods differ from traditional rehabilitation as we focus on promoting functional gains below the level of injury through intensive, activity-based recovery methods. Due to the success our clients with SCI have had, we have made our methods available to individuals with other nervous system impairments such as, but not limited to, stroke, acquired/traumatic brain injuries, Cerebral Palsy and Spina Bifida.

We believe that each individual has a potential to recover lost function, the extent of which can depend on multiple factors: level of injury, ASIA score, complete/incomplete injury, experience with physical activity, and any secondary health factors. We understand that each of these factors can vary from client to client. Each individual with a SCI is different and so are their sessions. We customize each session to put our clients in situations where they will succeed and recognize their potential.

Our methods are research-based and we follow the latest clinical best practices to produce outcomes that increase functional recovery following a SCI. In recent years, there has been an increase in research being completed to understand the mechanisms leading to functional recovery after SCI.
Questions? Contact First Steps Today!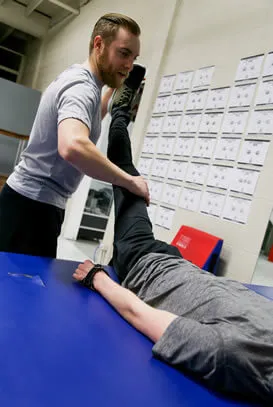 Science Behind Our Methods
The spinal cord is a bundle of nerves that carries sensory, motor and reflex signals between the brain and the body. Injury to the spinal cord may interfere with the nerve conduction leading to sensory and motor impairments. As a result, individuals with a SCI may not be able to perform activities in a way that is otherwise considered normal for that individual. This limitation may impact the individual's participation in activities of daily living.

The ultimate aim of any physical rehabilitation program for a SCI should be to improve quality of life by increasing function below the level of injury. Conventionally, physical rehabilitation has taken a compensatory approach. The belief that the nervous system is hard wired and irreparable has left the primary goal of conventional therapies to accommodate existing impairments and use assistive devices such as orthotics and wheelchairs to improve participation in day-to-day activities.

The bone mass below the level of lesion decreases rapidly after the first few years of injury and continues to decrease gradually, unless addressed in the early stages following injury. Unloading is an important factor for osteoporosis along with neuronal and hormonal changes after SCI (Jiang et al., 2006). Research has shown there is a transformation from slow twitch fatigue resistant muscle fibers to fast twitch, fast fatiguing muscle fibres. These physiological changes not only affect the functional capacity of the muscles, but also the metabolic functions of the muscles leading to metabolic disorders such as obesity, dyslipidemia and diabetes (Manns et al., 2005). Decrease in bone mass leading to osteoporosis following a SCI is a common complication. Compensatory approach not only discourages individuals with a SCI to use residual function in the affected areas but also further weakens the affected areas below the level of lesion and can lead to secondary complications of SCI.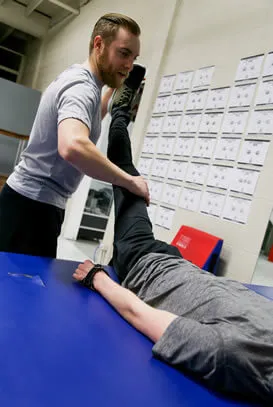 While the concept of functional recovery is growing in the rehabilitation industry, it is common for our clients at First Steps to see increased function below the level of lesion. In recent years, there has been a shift in the way physical rehabilitation is viewed for individuals with a SCI. Researchers have categorically stated that the field of modern neurorehabilitation no longer aims at compensation for disabilities; rather, it works through a spectrum of therapeutic interventions to gain functional recovery by use of "restorative neurology," the practice of facilitating neural plasticity (Tansey, 2010). Physical activity-based exercise is one such essential therapeutic intervention. Researchers have provided preliminary evidence to show that the nervous system is not hard-wired but malleable, and that function lost due to a SCI can be recovered.
Frequently Asked Questions