Children's Rehabilitation Program
Our Children's Program provides specific, intensive, activity-based therapy programming for children with neurological conditions or acquired brain injuries that have created any developmental delays. Our program is designed to work with the child as a whole to improve motor planning, body awareness, independence, and quality of life.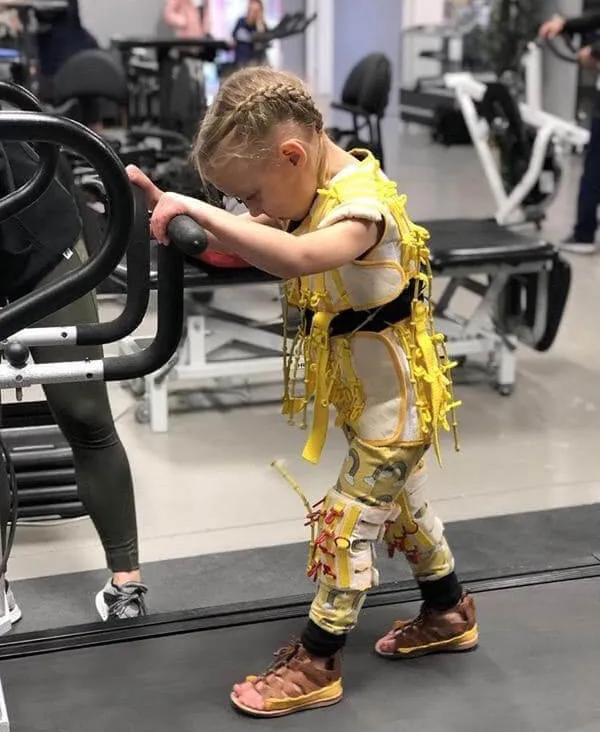 The goal of our Children's Program is to eliminate pathological reflexes and establish new, correct, and functional movement pathways. We have combined highly reputable programs to take a new approach on how to create changes in the body that are associated with brain injury, trauma, and developmental delays. The TheraSuit Method®, MNRI®, FES, and activity-based therapy are shown in research to be the most effective and time worthy approaches for providing muscular and neurological retraining. By combining the above therapies, the child is provided with the best possible resources to succeed with motor and sensory functioning such as coordination, balance, strength, and endurance to create functional movements.

Therasuit Method® targets overall body alignment, strength, and coordination while improving the motor and sensory feedback received by the body.
Masgutova Neurosensorimotor Reflex Integration (MNRI)® is a method directed towards developing the neurosensorimotor system by integrating primitive motor reflexes.  Primitive reflexes create the foundation for human movement and survival. When the central nervous system, sensory system, or motor system is compromised, the ability to produce movement is hindered.  By integrating these reflexes, the body can gain the ability to move in a more efficient and effective way.
Functional Electrical Stimulation (FES) is used to activate deconditioned or paralyzed muscle groups. By using this safe, low-current electrical stimulation, it can assist in creating functional movement. This is a method used in a wide range of therapeutic indications.
Activity-based therapy is used to target the activation of the nervous system to promote recovery and rehabilitation of motor function for specific tasks after a traumatic injury.
Everyone is born with pre-programmed reflexes that help strengthen and train our bodies to be able to perform movement patterns against gravity. Due to differences in severity of injury, children with neurological conditions will experience varying degrees of difficulty progressing through developmental stages due to disruption of these reflex pathways.
Our program has the goal of providing intensive and directed therapy to help accelerate and guide the child's development in the direction that it would naturally take. The combination of programs allows the body to reach a functional goal and produce a movement correctly in a shorter amount of time (4-12 weeks) than when compared to traditional therapy (12 months).
Our intensive therapy program is designed to meet the child's individual needs. We offer three-hour sessions, five days per week, for four weeks. The number of hours and length of the program may be modified based on the child's needs and or/age (ex. 1-2 hours per day for a child under the age of 2.5 years).

The cost of the Intensive Therapy Program is $5,400 for the four-week program. It is at the parents'/caregiver's discretion to seek insurance reimbursement where available. We will provide documentation for such purposes when requested.

We encourage parent/caregiver observation and involvement during each session. We believe that active parents/caregivers play an important role in their child's success. On the last day of the program, the family will be given a personalized home program and how to do all exercises with the child. This home program will include the child's own pictures or videos and descriptions of the exercise and activity.
Our customized therapy program is also designed to meet the child's individual needs and is offered at the discretion of the families and our exercise therapists. These sessions can range from 0.5 hrs per week up to 10 hrs per week.

The cost of the customized sessions is $90 per hour.

*While research indicates greater functional gains take place during intensives, the customized program allows flexibility for all families and their differing needs while still allowing for progress to be achieved.
During each session we will utilize a wide variety of equipment appropriate for each child.
There are precautions and contraindications when using the TheraSuit®. Modification to our sessions can be made to ensure safety. Therefore, we require that all of our clients receive medical clearance from their physician prior to participating in our therapy programs. We recommend the child to be older than 2.5 years old to use the TheraSuit®. Caution is taken when using the suit on children with the following conditions...
Frequently Asked Questions
If you are unsure if you are a candidate for our program or if you have further questions please do not hesitate to contact us by email
[email protected]
 or by phone 
(306) 522-3792
. We would love to hear from you.